Hutchies Training ·
Trade Start gives head start in building industry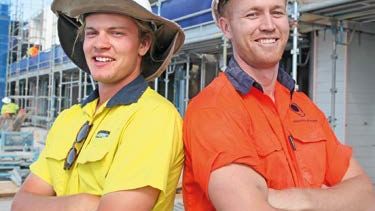 Local construction apprentices, Bailey Deakin and Henare Wells, are typical of the young people combining study with employment at Hutchies' Gold Coast School of Construction (GCSC) - now known as Hutchies Training.
The school's 12-week Trade Start course is designed to give young people like Bailey and Henare onsite experience.
"It was a great opportunity for me to get in with Hutchies because they have a fantastic reputation in the industry," said Bailey, 18, from Mermaid Beach – a first-year carpentry apprentice.
"The learning we do in the classroom is used every day and it's so good to be exposed to a real construction site and get a feel for what the industry is like.
"I'm confident that after I complete my apprenticeship, I'll have the skills and experience to go on to a career as a structural foreman and then as a site manager."
Originally from New Zealand, Henare grew up on the Gold Coast and played rugby league in the NRL for the Auckland Warriors.
After recently missing out on a spot with the side, he decided to pursue a career in construction, allowing him to keep playing the sport he loves for the Burleigh Bears.
"I'm at that age now where I needed to get some kind of trade behind me," said the 25-year-old from Broadbeach.
"Before I was just going from one labouring job to the next.
"I'd been looking online for apprentice-ships but I found it hard because it is so competitive on the Gold Coast.
"Scoring a plumbing apprenticeship with Commodore Plumbing has been the best start I could possibly get," said Henare.