Hutchies Training ·
Students get some hands-on training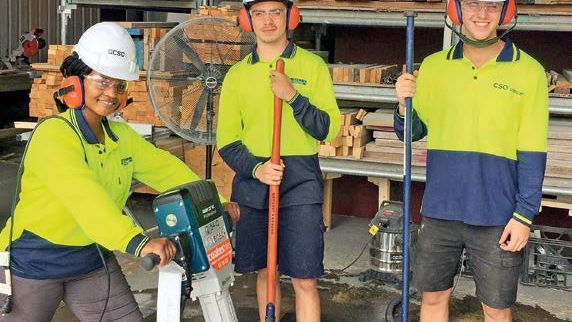 Three training students recently worked on the removal of an old storage shed and concrete slab at Hutchies' Bowen Hills scaffold yard.
The concrete had to be removed to make way for more useable space in the workshop.
Led by Nomusa Nzama and assisted by Samuel Moolenschot and Shaquille Sandow, the task was completed in no time.
This would not have been possible without the guidance of Gary Dawes, plant yardman, who arranged the hire of equip-ment used, gave hands-on assistance, and contributed to the safety brief before work started.
Thanks to Tim McGregor, scaffold plant manager, and his team for the ongoing support of Hutchies Training at the Bowen Hills depot.