Hutchies Training ·
School of Construction offers
combination of study and work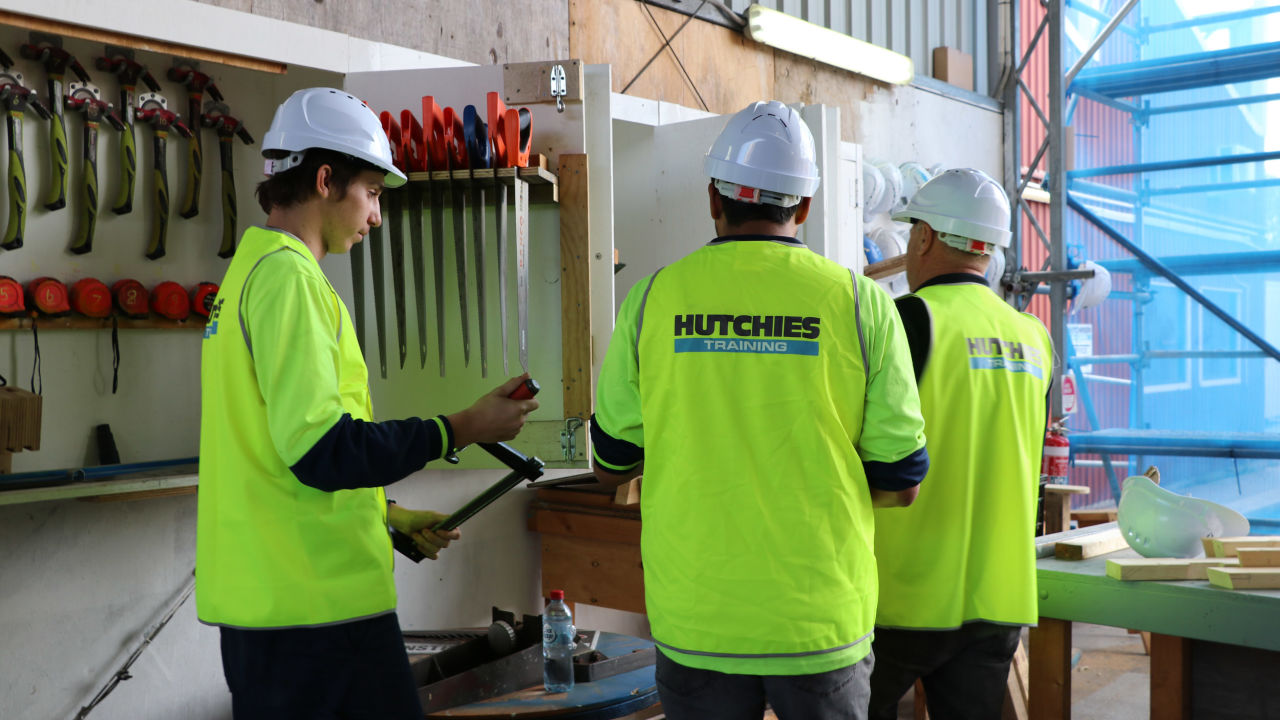 Almost 1,000 students have graduated from Hutchies Training (formerly known as Gold Coast School of Construction (GCSC)) since it opened in 2011.
From a single classroom at Yatala eight years ago, the Hutchies Training has expanded with four more locations at Bowen Hills, Yarrabilba, Toowoomba and Robina.
Hutchies Training, developed and operated by Hutchinson Builders, is a registered training organisation (RTO) which offers those looking for a future in construction the opportunity to combine study with employment.
A feature of the school is that it operates from temporary buildings on live construction sites, so that students engage with construction workers and sub-contractors on site all day, every day.
When it's time to do work placement, students literally walk outside to the site and get started.
The school recently relocated to Vue Terraces in Robina, after a stint at the Ruby Collection site in Surfers Paradise and, prior to that, at the Gold Coast 2018 Commonwealth Games Athletes' Village in Parkwood.
Rod Eske, Hutchies Training coordinator, said the school's aim was to make Hutchies a better builder, as well as improving workforce quality across the industry.
"It's about building capacity of the workforce, so everyone in the industry benefits – from Hutchies to other builders and the sub-contractors we work with," he said.
"Through our school, we're getting some good young people into our industry and making sure they go into an apprenticeship so they come out with trade qualifications at the end of it and a career ahead of them."
Rod said 75 per cent of students who finish the programs get a job in the industry.
"The apprentices Hutchies employs directly have a 95 per cent retention rate compared with the industry average of about 55 per cent," he said.
Hutchies Training's Trade Start program meets nationally accredited training requirements, so students develop skills that are transferrable and recognised throughout Australia.
The course also helps Hutchies identify students suitable for its Future Leaders program to train apprentices up to be the next generation of team supervisors.
Rod encourages anyone looking at a career in construction to consider Hutchies Training.
"At the end of the day, when you're undertaking an apprenticeship, you're making a four-year commitment, so you want to wake up every morning and be happy with the trade you are involved in," he said.
"I don't know a single person with a trade qualification who regrets it.
"It's the basis of a great education and career in the construction industry and the best decision you will ever make."
For more information on the school visit hutchies.edu.au or call 1300 844 244.