Hutchies Training ·
Hutchies Training Awards 2019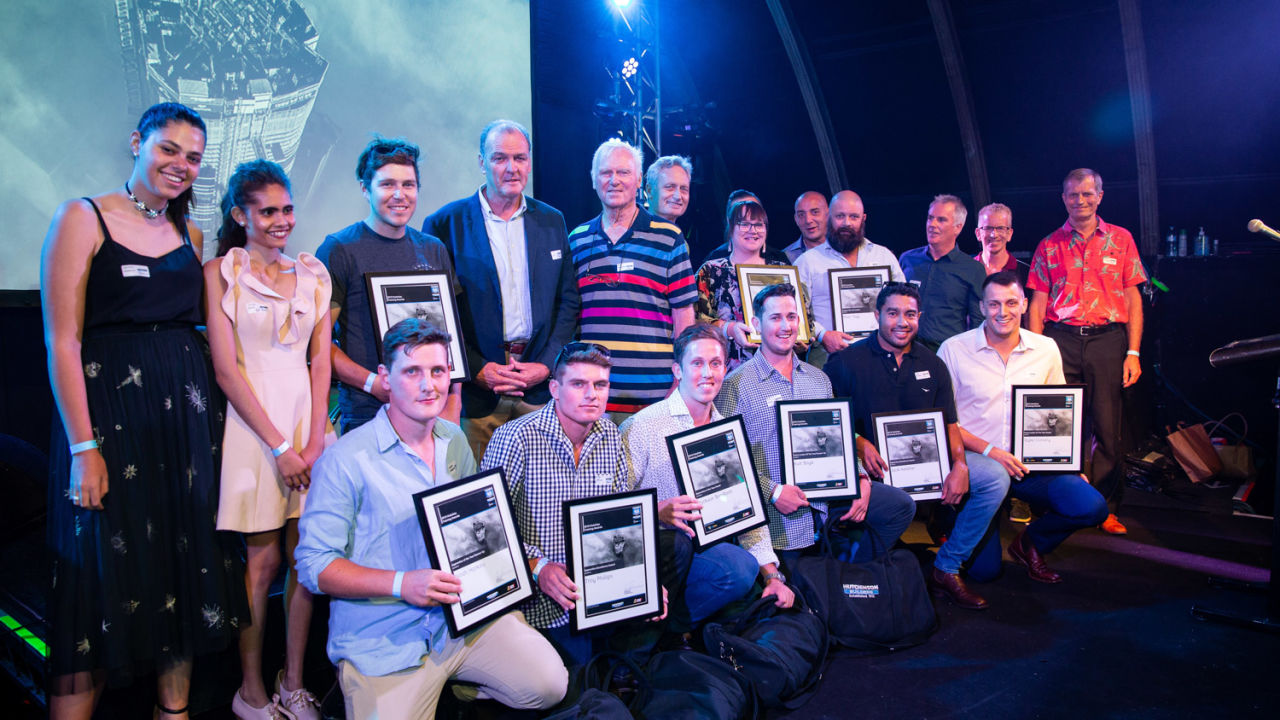 Hutchies Training's 11th annual National Awards night which recognises the hard work and determination of our apprentices, cadets and future leaders took place at The Triffid on 23 February. The event was one of the best yet with everyone in high spirits, mingling and laughing as people stood ready to celebrate the achievements of our apprentices, cadets and future leaders from the previous year. Even Mother Nature showed up, delivering blue skies instead of the anticipated rain expected from Tropical Cyclone Oma. To open the awards and celebrate the progress of our Statim Yaga Indigenous program, the Yerongpan Aboriginal Dancers wowed the crowd, performing their 'Traditional Welcome to Country' performance.
#The Winners
​Every year we identify an exceptional apprentice, cadet and a future leader from Hutchies' training and professional development programs. Teams nominate candidates who are recognised for consistently performing beyond expectations during the previous 12 months.
The selection processes gets harder each year and this year was no exception with us receiving the highest number of nominations in the history of the awards. The calibre of the nominees was extremely high and the judging panels found it extremely difficult to choose the winners. Each judging panel contacted supervisors, peers and site managers to try and ascertain even more details to help them make the unenviable decisions.

Although there can only be one winner in each category, we would like acknowledge all of the nominees. To be nominated means that they have demonstrated a significant contribution to their team. We congratulate the following winners on their hard work, determination and tenacity over the last 12 months.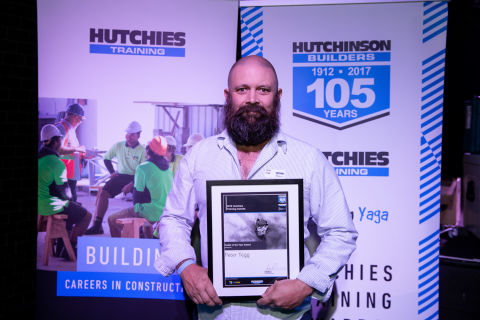 Cadet of the Year
Peter Tegg
Team / Levi Corby
Peter's communication skills, grasp of the big issues and the ability to deliver everything with a sense of humour makes him a stand out winner. His team believes Peter is a future project manager without doubt and has a very bright future with Hutchies.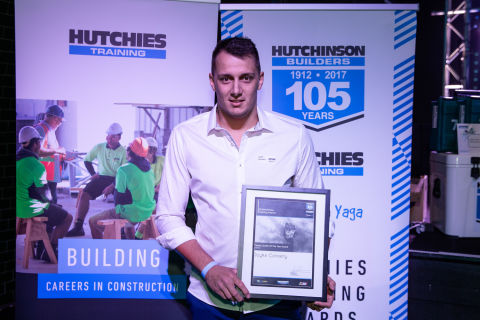 Future Leader of the Year
Jayke Convery
Team / Levi Corby
Jayke is held in very high regard in his team. He is very quickly working his way through the ranks and receiving lots of positive feedback along the way from clients to site managers and team leaders. His team leader wrote in the submission that Jayke is project manager and future team leader material. He has a very bright future with Hutchies.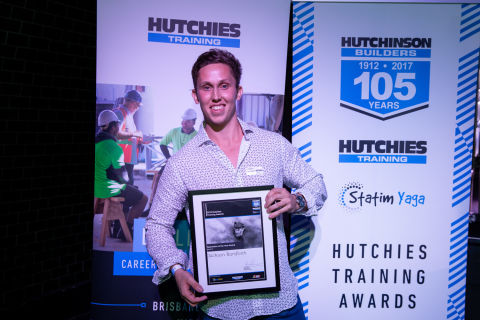 Apprentice of the Year
Jackson Bamforth
Team / John Berlese
Jackson is a product of Hutchies own pre-employment program and secured his apprenticeship after he excelled while on work experience with us.
He is able to complete tasks unsupervised and the team often receives positive comments from subbies, clients and tenants related to their dealings with Jackson.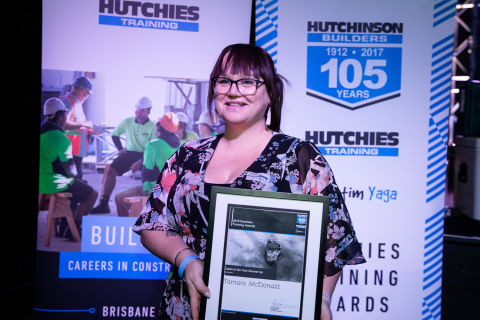 Cadet of the Year Runner Up
Tamara McDonald
Team / John Berlese
Tamara is an excellent example of how Hutchies allows staff to have a go at a different careers within the company. What makes Tamara stand out is her ability to assist everyone and be a team player on site. Tamara is very much in control of all site documentation and has taken it upon herself to achieve further qualifications and competencies in both site and administration roles.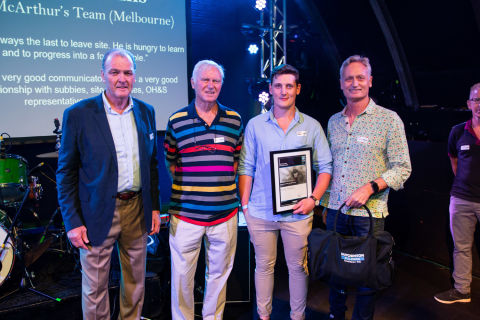 Apprentice of the Year Runner Up
Noah Harkins
Team / Stephen Edwards
Noah has been earmarked to complete his apprenticeship early to take up a position as a junior foreman, which is a mark of the respect his team has for him. His site manager wrote in the submission: "this is the best apprentice I have seen in my 45 years in the industry. I believe he is further advanced that where we think he is at. There is no job that you give him which is too hard. The quality of his work is terrific. This is an apprentice headed for the senior ranks of Hutchies".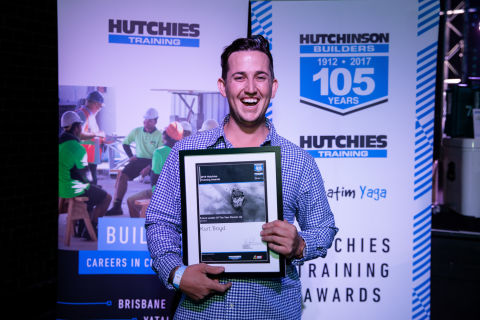 Future Leader Runner Up
Kurt Boyd
Team / John Berlese
Kurt has worked for Hutchies since 2011 and was one of the first students to complete Hutchies pre-employment course. He is no stranger to being nominated by his team for one of our Hutchies Training Awards which is proof of consistent performance and being a valued member of his team.
#Apprentice Excellence Awards
The Apprentice Excellence Awards are for apprentices who have excelled in their profession and worthy of special recognition.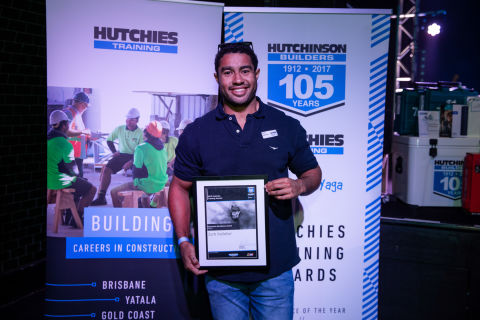 Jack Kelleher
Team / Peter Lee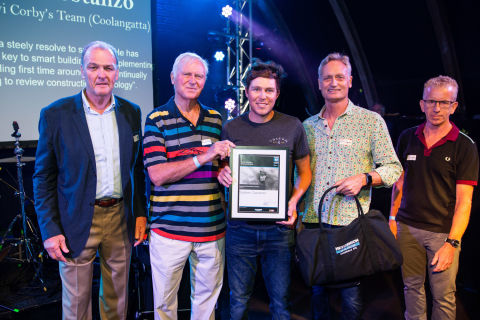 Stephen Costanzo
Team / Paul Hart / Levi Corby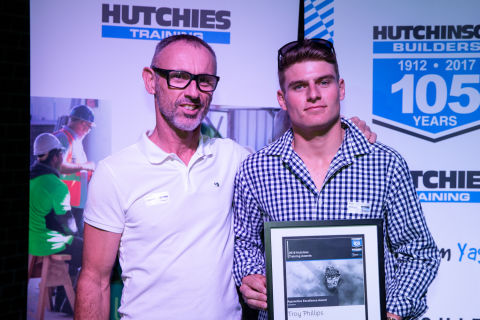 Troy Phillips
Team / Fred Brands / Shaun Beck
Hutchies Training and our development programs were originally established to enhance the capacity and capability of our Hutchies and our subbies workforce. We're passionate about investing in our most valuable resource — our people. Our industry leading training provides opportunities for skills development that nurture our workers from grass roots through to future leaders. We're proud of our 90% VET completion rate, compared to the Australian average of 60%. In 2017 and 2011 our commitment to developing our people saw us named Large Employer of the Year at the Australian Training Awards.